This could also be entitled "Why I Love Having Boys: Reason #276."
***As you read this account, please do not let it deter you from ever coming and visiting us. As you will see by the end, we have the situation under control. Thank you.****
So, we have an unfinished basement. It is a walk-out and our house backs up to his ginormous ranch. The cows come by and visit us on a regular basis and the prairie dogs keep us entertained with their constant running around and acting busy.
We
all know they are just prairie dogs but
they
apparently don't realize this. I guarantee they think they work on Wall Street the way they run around constantly like they are late for something important and barking "SELL! SELL! SELL!" to each other. But I digress....
Anyway, I have found "signs" of mice in the basement before. A little poo here, a little poo there. I have simply vacuumed it up. Haven't worried about it. We don't eat down there. And the only food down there is our 4.5 day food storage (we're coming to YOUR house if there's a major disaster, btw). And heck, if they can get into that case of green beans I got at Costco last month then congratulations to them, I say. So I thought that maybe a little mouse would get in every once in a while, starve to death and that'd be the end of it.
Cut to coming home from our family reunion on Saturday. I dutifully emptied out a suitcase and went down to the basement to put it away. What I see was straight out of my own horror movie..... there is a huge piece of insulation on the floor which has fallen from where it was stuffed between the framing and the concrete foundation. And on and around that piece of insulation was, I swear to you, no less than 4 lbs. of Maggie's dog food.
"AAAAAAAAAAAAAAAAAAAAAAAAAAAAAAAAAHHHHHHHHHH!!!!!! Gty!!! Get down here!!!!!!" I screamed.
I'm immediately thinking a) we have 1,000 mice in this very room with us right now who have stockpiled all of this while we were gone or b) we have had a few mice living with us since we moved here who have been hoarding every piece of Maggie's dog food they could find for 2.5 years and c) I wonder what it must have looked like when that little mouse stuffed in the last piece of dog food or the proverbial straw that broke the camel's back and it all went crashing down. I'm imagining some scene out of Ratatouille but I'm sure it wasn't nearly that cute or comedic.
Regardless, I barfed a little. Well, I WANTED to barf a little. What actually happened was Gty and I just stared at each other for a while wondering what we should do next. Luckily we found a pair of latex gloves Gty had stolen from the cannery and he cleaned all of it up. Hims is a good hubby.
Oh, except for the fact that he then flew out of town on Monday morning.
So now what?? I'm stuck here all alone with rabid, disease-carrying mice in my HOME! My home! First order of business Monday morning was to go to Wal-Mart and survey their trap choices. I settled on this one: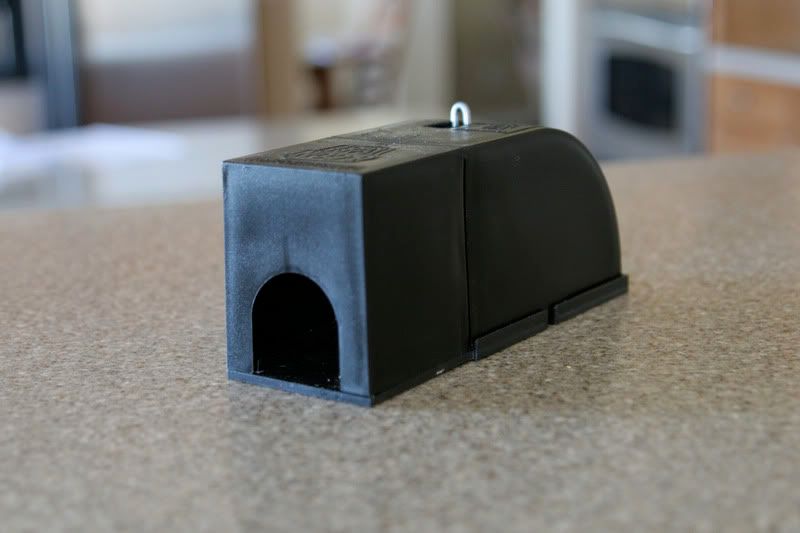 1) I didn't want the kids or Maggie to be able to get hurt if they happened across it.
2) I didn't want to have to worry about setting the thing and losing a finger. With this one you just push down that silver thingy on the top and it sets.
3) I didn't want to have to see the mouse all squished and deaderz.
Plus, it kind of looks like a cute little mouse condo.... put some peanut butter in there and what mouse could resist? I bet $4.12 that none could.
Night #1: I set the two traps. One on a shelf and one on the floor. Try to sleep. Luckily I had the giggles from Smart Remarks to take my mind off the atrocity which was occurring 2 floors down.
Morning of Night #1: I can't bring myself to check the traps. I tell the boys (thus the subtitle) that I'll pay them $1 per mouse that they empty out of the traps into the outside garbage can. Their eyes lit up and they sprinted down stairs. JBird comes running up the stairs with a trap in his hand.... I look over.... his face is beaming.... I look at the trap.....I see.... sticking out of the hole, a little mouse bum and a tail flailing back and forth as JBird shows me his prize..... it's like slow motion now....a sound comes out of me that I've never heard before...shreiking....choked back sobs... more shreiking..... I hide my face and cower against the kitchen cabinets.... JBird is shocked at my reaction and hides the loaded mouse trap behind another counter so I can't see it hoping I'll calm down.... I do.... eventually.
Ugh.
I then tried to calmly explain to him how to lift this thingy up, push down on this thingy while holding it over the garbage can thingy and, and, and..... all the while keeping a nice 10 foot cushion between me and it. Jbird explains that the one he has was the one on the shelf... the one of the floor had snapped, but there was no mouse... and the peanut butter was licked clean. Dang.
Night #2: I reset the traps. Same traps, same spots. No Smart Remarks to distract me. I imagine mice every where. I don't sleep well. Plus I have some weird dream about a girl I recently caught up with on Facebook.
Morning of Night #2: The boys bounce out of bed and bee-line it down to the basement. This time Tbone has the privilege of bringing up the bane of my existence. He knows better, however, and keeps it hidden from me as I manage a "Congratulations! Now take it outside!" Again, the report is that the trap on the floor was once again set off, no mouse, no peanut butter.
I'm now worried I have a genius mouse (think Pinky & the Brain) living in my home who is just biding his time until he figures out how to suffocate me in my sleep and take over my blog. I mean, what is he using to set it off with out getting nabbed??? I'm baffled. And nervous. And mad at my husband for abandoning me in my time of need (he does ask for a "Mouse Report" every day though so I guess that's good).
Night #3 (aka last night): I decide to out smart the smarty pants and I SWITCH the two traps. The "shelf one" is now on the floor and the "floor one" is now on the shelf.
Badabing, badaboom.... TWO deaderzed mice this AM. Take that, Mickey!!
The grossness is that there were
at least
FOUR mice down there. I now need to come up with some kind of number in my head where, if we reach that number, I just burn the house down and we never look back. Seriously. 7? 12?
This is intolerable.