First of all, does it count on the final tally of Mouse Count! if we caught one in the garage? Didn't think so.... holding steady at 16, thank you very much.
So I do this thing every season where I kind of come up with a "uniform" for myself. I basically pick a look I like & pretty much wear it everyday. Buy one in every color, if you will.
In high school I remember getting a bunch of big (and I mean HUGE) button up shirts and then wearing them with leggings.
In college I was pretty much into huge sweaters and jeans (see
ugly cry pic
for proof). I also remember loving the knee-high socks with a plaid pleated skirt look. I had a few variations on that one. Pair it with a cute cardigan & you've got the guys lining up in the Lobby of S-hall and calling you on the lobby phone.
Early married years I wore plain scoop-neck t-shirts with high-waisted pants and a belt. Always a belt. Who
doesn't
wear a belt?? Lame people, that's who.
Anyway, for this coming fall and winter seasons I have decided on my uniform. It will consist of various hoodies and jeans (
yes, Memzy, two of those pairs of jeans are overpriced, designer jeans---ha! Beat you to it! Now you'll have to come up with some kind of scrapbooking bit
).
I'm going to get me some plain hoodies, some with some bling, fuzzy ones, slickery ones, maybe even some embroidery might be involved here... I don't know. As far as I can tell, the sky is the limit on hoodies these days.
So I was pushing my ginormous cart through Costco a couple of weeks ago and I see this table full of hoodies. I was so excited. I go over, try a couple on, settle on a size and a color and purchase said hoodie. It's a nice plain, take-the-kids-to-the-park-on-a-crisp-fall-day hoodie. Soft, comfy. You know the type.
I get it home.
I go to take off the tag.
This is what I see.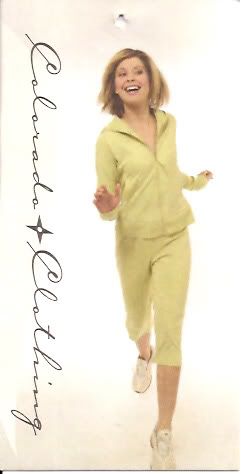 Ok.... what in the AYCHE have I purchased here?? Did I just buy an article of clothing that is being marketed to the 60+ crowd?? Don't get me wrong, I love 60+ year old people. I just don't want to wear their clothes. Honestly, that woman looks like my mom.
I'm freakin' out a bit here. I think I'm losing my edge.