I started thinking that I better be keeping track of what my kids have been up to lately. I mean, are people 100 years from now really going to want to read about what TV shows I like to watch? Or how many times I barfed the other night (it was like, 7 times, you gize)? No, they're going to want to know what my kids were doing this past weekend. So here we go. Read on if you want. But it's really not for you. It's for those people 100 years in the future.
JBird:
All the pain & torment of hurrying home this past Friday from UT totally paid off! We came home to make it in time for JBird's final football game and.. WOOT WOOT!... He caught an interception!! We were hoping he'd have at least one big play for the year and that, my future people, was it. He was ecstatic & so was Gty. Since then I cannot tell you how many times Gty has turned to me and said (in front of JBird) "So, do you know anyone who has caught an interception?" And every time I look at JBird and he's sitting there with a smirk on his face pointing at himself like he's "all that." It was good for him because, I gotta tell ya, the kid's attitude these days STINKETH. He's in this "Why do I gotta do that?" mode and all mopey & stuff these days if I ask him to do ANYTHING. I keep telling myself it's his age & he'll pull out of it but it seems like a long road ahead. Time will tell I guess.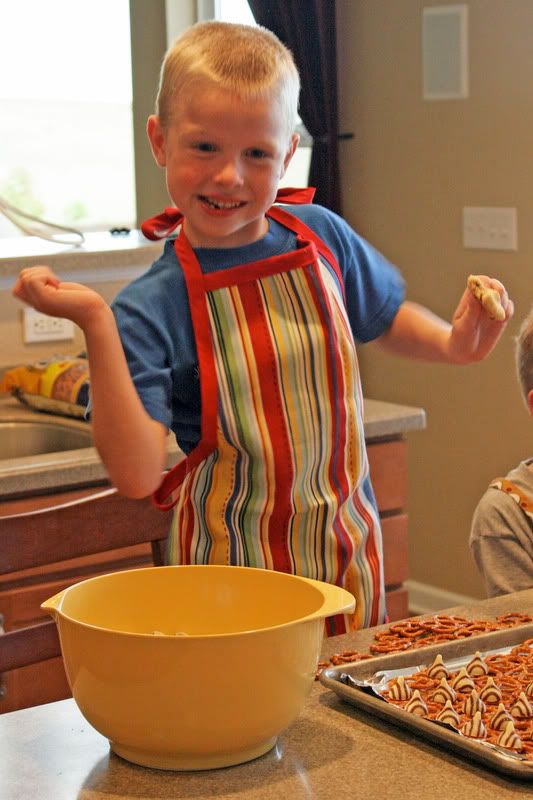 TBone:
This kid has definitely turned a corner with his behavior.... and that can only be a good thing. I swear to you... he is obedient, happy, and so much fun to be around. This is HUGE! I don't even know what to contribute it to either. I'm thinking Tae Kwon Do has helped a ton. They are good at emphasizing discipline & obeying your parents and things of that nature. But also maybe he is just growing up? It used to be that you'd say "K, T, after you finish that game you need to go brush your teeth, get in the shower & get your jammies on" and then a half an hour later he would either be a) still playing the game or b) doing something else. Now we say that and then forget & 10 minutes later we hear the shower going & he's following through with every last request. It's a freakin' miracle, I'm tellin' ya. I love it. The best part is he is keeping the silliness alive as well. I'd hate to have him lose his personality in the name of obedience.
BeeBee:
My BFF. So fun. So cute. Love hanging out with her all day long. She is so reasonable it's astounding. If she wants something that she can't have/we can't do all I have to do is explain why and she is totally good with it. Fits are such a rarity that I cannot even remember the last time she had one. She loves her brothers & her Dad like crazy. Usually I will put her down for a nap, go back in to check on her and she will be asleep wearing one of her princess dresses. One thing happened on Sunday however... church is from noon to 3pm. This screws up naptime like you would not believe. So usually I don't even put her down. This past Sunday she fell asleep at 6pm. Hmmm... wake her? Hope she stays asleep for the night? I chose B. I chose wrong. She woke up from her "nap" at 10:15pm. When she came walking down the stairs with her rat's nest hair I cringed. Yeah, she didn't go to bed Sunday night until 1am. But, like I said, at least she was pleasant to have around in the late hours of the night. :)
So there you go Future Blog Stalkers. My kids, right now. Maybe by now they are your grandparents? Great grandparents? That's too weird to even think about.