So, yesterday we discussed the fine art of "decluttering" for guests. That was not a long term solution, of course, as we then heard horror stories of hundreds of bins being used for that purpose and then never opened again.
This next tactic will really drive home the point that you are not only clean, but also very organized. I mean, anyone can have a clean countertop, but what about
your cupboards
?
Here is what you do:
1) Go to Costco when Shelf-Reliance is in town and spend a little bit of dough on their cupboard and pantry "Cansolidators" (afterward, Gty said that if he knew they were called something so lame he never would have allowed/aloud them in our house). You then clean out an entire cupboard, throw away the many cans that expired in 2000 (<-- not a joke) and you create nothing short of a masterpiece that looks like this: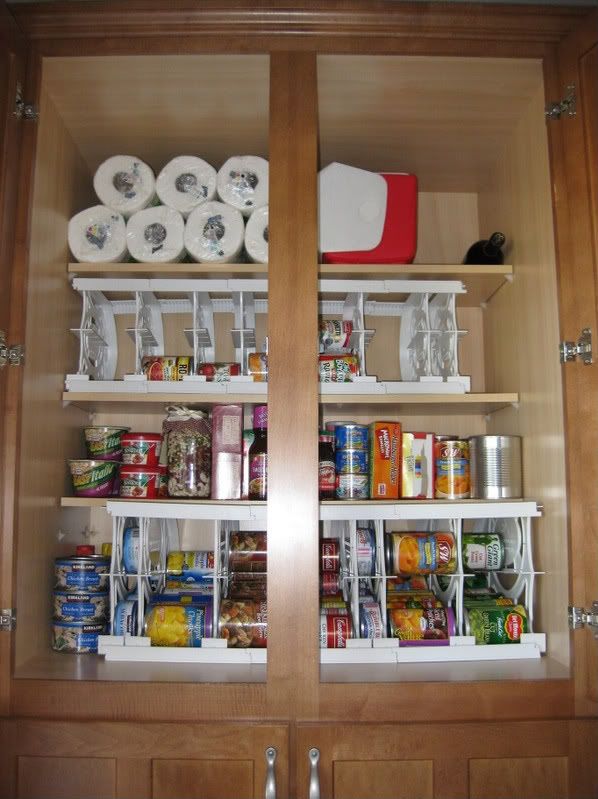 I realize this takes a bit of effort but it will PAY OFF! Because....
2) Anytime you have guests over, you figure out some way to make them look in your beautimus cupboard. You offer them a drink of water and then say "Oh, could you get a glass out of that cupboard over there? Oh, whoops! That's not where I keep the glasses!" or "Hey, I want to show you something really cool on YouTube... just open that cupboard over there. Oh whoops! That's not where we keep the computer!" You get the point.
3) Under no circumstances are they to look in any other cupboards like this one:
If someone does accidentally open another cupboard you'll need to go full-force on getting them to the "right cupboard." Then you'll have to figure out a way to make them sit & stare at it so long that it burns into their retina so when they close their eyes they can still see it. That may be difficult to do so I suggest you prevent them looking elsewhere to begin with.
All it takes is one cupboard, people. Seriously.