This next method of shortcut "cleaning" could be used in various situations.
People are coming over in five minutes and you have a pile of dirty dishes on the counter.
Your dishwasher is full of dirty dishes & you don't feel like washing the rest by hand/don't believe in hand-washing (like me).
Your dishwasher is full of clean dishes & you don't feel like emptying it to put in the new dirty ones.
Your dishwasher is completely empty & you don't feel like loading it.
You're a fan of "soaking stuff" (that is Gty's fave way to do dishes...soaking).

You're trying to get away with doing as little as possible in the dishes department.
So, here's the technique.
1) Fill one side of your sink with hot soapy water like this:
2) Proceed to fill it with dirty dishes (due to any of the situations listed above). Do you see how "clean" it looks there? One would never suspect that beneath the clean looking bubbles is a couple meals worth of plates & bowls & sippy cups. If you fill it just right, the bubbles almost look like an extension of the counter top, creating a nice flat surface.
3) When you muster the strength, go ahead and load the dishes into the dishwasher. Bonus: No rinsing required now.
Question: But what if I wake up in the morning and STILL don't feel like doing the dishes? (see dramatic recreation below)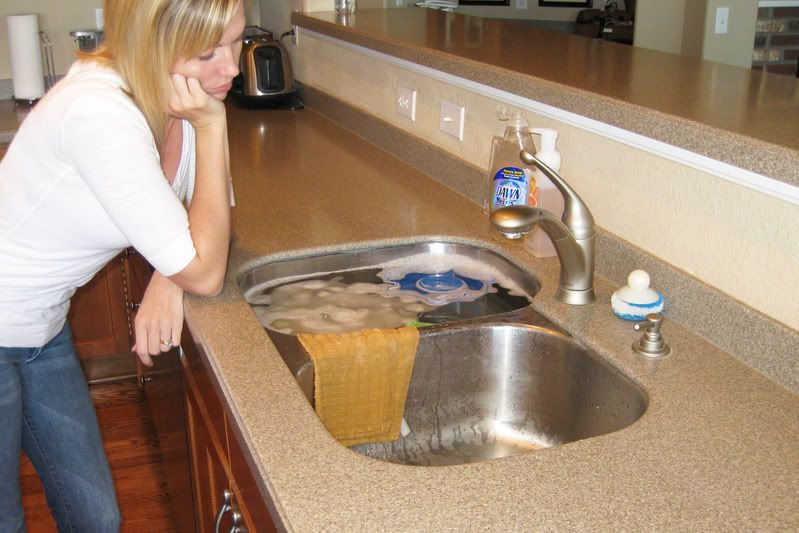 Answer: I'm so glad you asked! As you can see, by morning, all the bubbles are gone revealing the atrocity lurking below the surface. All you need to do is simply run the water again to create more bubbles!! (note: depending on how many times you do this, you may need to add more soap). When it comes to dishes, out of sight, out of mind is what I always say.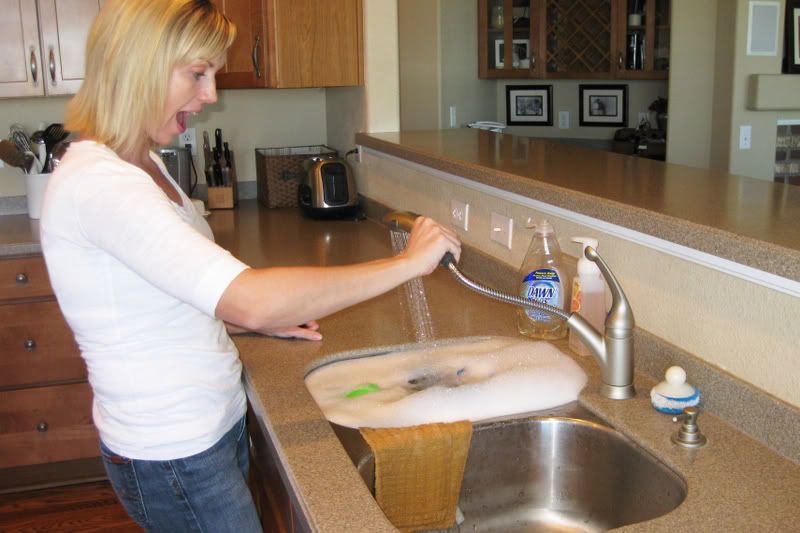 This will then free up many, many hours to do what you really SHOULD be doing anyway....