I have saved my last bit of wisdom in the Art of Cutting Corners for last.
This is what you need:
Photobucket" border="0">
What is this cray-zee advice? A dog? But dogs are just like another mouth to feed! Their breath stinks! And their farts are worse!
Ah yes... but lookee at what they do!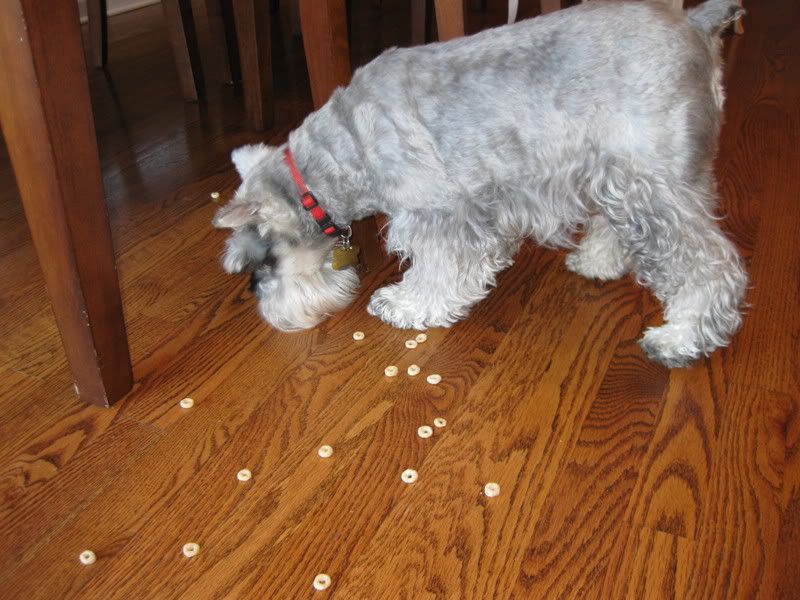 Photobucket" border="0">
I had no problem taking a fist full of Cheerios and throwing them all over the floor to take this picture because I KNEW Miss Maggie would do a thorough job of cleaning them all up. You see,
that is what she does
. This is the beauty of dog. This is why you need one. I can't remember the last time I picked up/swept up/wiped up any kind of food off my floor. As a matter of fact, I've been so spoiled for the last 9 years of Maggie-ownership that when I go to other people's houses who don't have a dog & I drop something on the floor I'm like, "Srsly? I
srsly
have to bend down and pick that up? Are you kidding me?" It's annoying. I'm used to having this little furry maid around at all times, eating all things, and in all places.
Plus your kids will love you for it. You don't have to tell them the real reason you got one.
(Not for the faint of heart: Once Maggie even licked up some of JBird's diarrhea off the bathroom floor before I could get to it.
I took the rubber gloves off & gave her a doggie bone.
We had to make a rule that no one could get kisses from her for a year. It was awesome.)
Bonus Tip!
Obviously there will be times when you need to actually
wash
the floor. This is what you do. First, throw away your mop, Swiffer, w/e you use to clean your hard floors. These are nothing but back-breakers & money wasters. All you need is an old towel & your bare feet. Wet the towel, wring out the excess, plop the towel on the floor & then walk around (plzthanks ignore the wrinkly workout pants and chipped toenail polish, tyvm).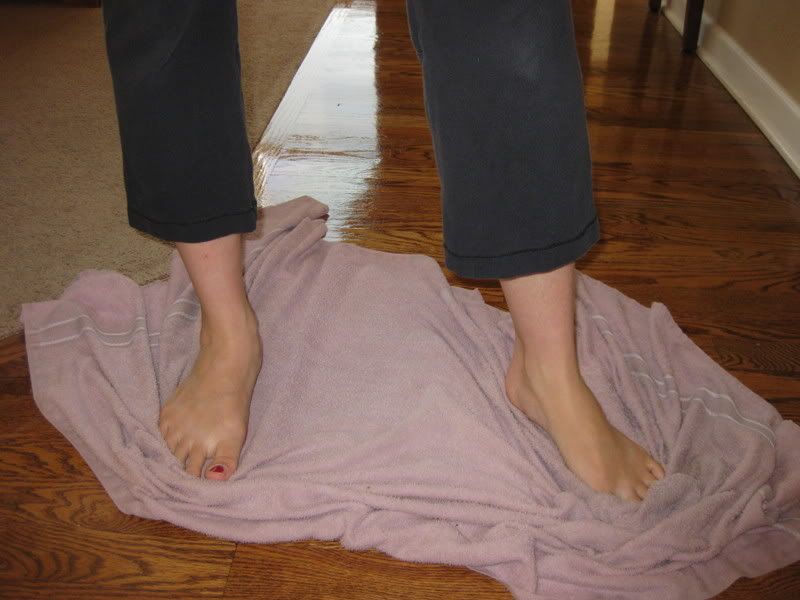 No need for costly refills & getting all sweaty while cleaning. You simply walk around. You can even talk on the phone because your hands are free. You can even (gasp!) make your kids do it. About halfway through you just flip the towel over & continue. Then throw the towel in the washer & voila. Yer done-zo. It takes 1/2 the time as regular mopping (I've totally timed it).
This wraps up Domesticity for Dummies. If I think of/make up any more I'll be sure to post. All of these techniques are like any recipe ever submitted to a ward cookbook. Totally tried & true.
Flank me later.